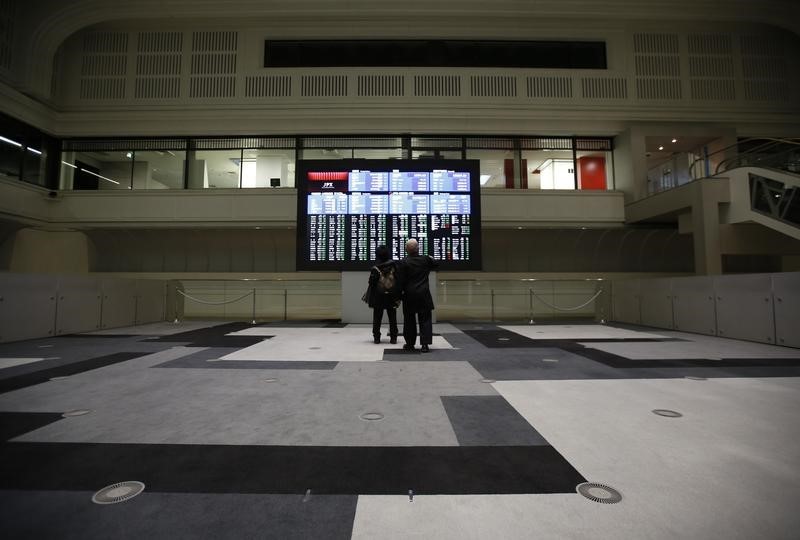 © Reuters. Visitors looks at an electronic board showing the Japan's Nikkei average at the Tokyo Stock Exchange in Tokyo
By Hideyuki Sano
TOKYO (Reuters) – Asian shares scaled two-year highs on Thursday while the dollar and U.S. bond yields slipped after the U.S. Federal Reserve signaled a cautious approach to future rate hikes and the reduction of its $ 4.5 trillion of bond holdings.
MSCI's broadest index of Asia-Pacific shares outside Japan () advanced 0.7 percent, hitting its highest level since June 2015, and bringing its gains so far this year to about 17 percent.
The gains were led by South Korean shares (), which rose 1.0 percent to record highs. Hong Kong's Hang Seng () gained 0.8 percent to its highest level since July 2015 while Taiwanese shares hit 17-year highs ().
In Japan, Nikkei () gained 0.4 percent.
Mainland Chinese shares (), which were briefly unsettled by Moody's downgrade of its rating on China on Wednesday, bounced back 0.3 percent.
"Credit downgrade wasn't a surprise after all given the delay in structural reforms such as liberalization of capital moves. The Chinese economy looks set to grow more than six percent, so there's no reason to be that pessimistic either," said Shuji Shirota, head of macro economic strategy group at HSBC in Tokyo.
Minutes from the Fed's last policy meeting showed policymakers agreed they should hold off on raising interest rates until it was clear a recent U.S. economic slowdown was temporary, though most said a hike was coming soon.
"Their views seem to have changed considerably. In the past, they had said the slowdown was transitory," said Daisuke Uno, chief strategist at Sumitomo Mitsui Bank.
The minutes also showed that policymakers favored a gradual reduction in its massive balance sheet.
Fed staff proposed that the central bank set a cap on the amount of bonds that would be allowed to run off each month, initially setting it at a low level and raising it every three months.
Following the minutes, the 10-year U.S. Treasuries yield () fell to 2.255 percent from Wednesday's high of 2.297 percent.
Fed funds rate futures are pricing in about a 75 percent chance that the Fed will raise rates next month, moving down from more than 80 percent earlier this week .
The specter of a slower pace of policy tightening underpinned share prices, with the S&P 500 () closing at a record high.
In the currency market, the euro traded up 0.1 percent in Asia at $ 1.1225, having bounced back from Wednesday's low of $ 1.1168 and coming within sight of $ 1.1268, its 6 1/2-month high set on Tuesday.=>
The dollar stood at 111.63 yen , slipping from one-week highs of 112.13 touched on Wednesday.=>
Those moves have pulled the dollar&apos;s index against a basket of six major currencies () <=USD> down to 97.028, near Monday&apos;s 6-1/2-month low of 96.797.
The Canadian dollar strengthened to a five-week high of C$ 1.3402 per U.S. dollar after the Bank of Canada was more upbeat about the economy than some investors had expected.=D4>
Oil prices flirted with five-week highs as investors expect oil producing countries to extend output cuts at their meeting in Vienna later in the day.
Benchmark Brent crude oil () rose 55 cents a barrel, or 1.0 percent, to $ 54.51. U.S. light crude () was up 51 cents, or 1.0 percent, at $ 51.87.
Both benchmarks have gained more than 16 percent from their May lows below $ 50 a barrel, rebounding on a consensus that OPEC and other producers will maintain strict limits on production in an attempt to drain persistent global oversupply.
Elsewhere, digital currency bitcoin hit a fresh record high, having surged 170 percent in about two months from its March low.=BTSP>
Demand for crypto-assets soared with the creation of new tokens to raise funding for start-ups using blockchain technology.