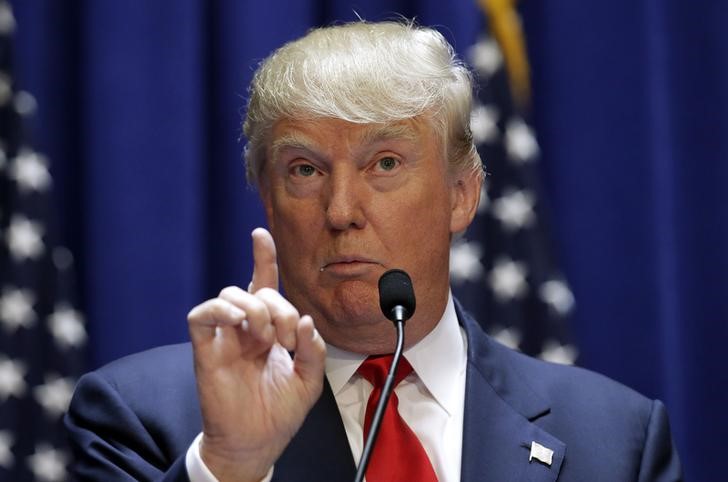 © Reuters. 5 key factors for the markets on Friday
Investing.com – Here are the top five things you need to know in financial markets on Friday, January 20:
1. President-elect Donald Trump's inauguration
Ten weeks after shocking the world by winning the U.S. election, will be sworn in as the 45th President of the United States at approximately 12:00PM ET (17:00GMT) on Friday in Washington, D.C.
Investors will welcome any detail he may give on his promises of tax reform, infrastructure spending and deregulation, as well as insight regarding policies on China and the domestic economy.
President-elect Trump has been credited with being a major catalyst behind the market's impressive rally since election day, although he has yet to outline his economic policies in detail.
Markets were disappointed last week after Trump failed to offer details on his promises to boost fiscal spending and cut taxes at a highly-anticipated news conference on Wednesday.
The has chalked up five consecutive sessions of losses amid caution as market participants wait to see if Trump can deliver expansionary policies.
2. Earnings watch continues, disappointing news from blue chips
Eyes continued to remain focused on earnings with 54 S&P 500 firms having reported fourth quarter results as of Thursday.
Earnings trend analysis firm The Earnings Scout noted that while sales and earnings growth are so far up slightly from last quarter, the beat rates have decreased.
After the prior day's close, disappointing news from two Dow components looked to weigh on shares in Friday's session.
IBM (NYSE:) reported its , though the firm was upbeat on newer segments that allowed it to forecast full-year earnings that beat the Street.
American Express (NYSE:) produced a as the credit card issuer boosted spending on marketing and promotion to fend off rising competition.
Still ahead in Dow earnings, General Electric (NYSE:) and Procter & Gamble (NYSE:) were scheduled to report before the opening bell ahead of session in which investors will have no major economic reports to digest.
3. China's growth hits 26-year low, though Q4 provides hope for recovery
Growth in the China's gross domestic product (GDP) during 2016 hit its slowest pace in 26 years.
However, fourth quarter numbers showed a that beat expectations for it to remain unchanged at 6.7%, suggesting that .
In other data out Friday in China, December jumped 10.9%, beating expectation for a 10.7% rise, though for the same month increased by 6.0%, just below forecasts for a 6.1% advance.
4. Oil on the rise after China GDP, rig count and monitoring meeting on tap
Oil rose more than 1% on Friday on the back of strong growth numbers from China though investors will keep an eye on data from Baker Hughes later in the session to take stock of how U.S. shale drillers are responding to higher prices.
According to the most recent data from the oilfield services provider, the number of rigs drilling for oil in the U.S. decreased by 7 to . That was the first decline in the oil-rig count in 10 weeks.
This weekend market participants will also be looking for any clues on the landmark agreement among major oil producers to cut production by nearly 1.8 million barrels per day.
A monitoring committee charged with tracking adherence to the global deal is due to meet in Vienna for the first time on January 22.
fell 1.15% to $ 52.72 at 5:53AM ET (10:53GMT), while traded up 1.09% to $ 54.75.
5. Global stocks mixed after China data with Trump on tap
U.S. futures pointed to a mixed open on Friday as the Dow struggled to move back to positive territory after five consecutive sessions of losses and markets waited for any possible clues on new economic policies at Trump's inauguration.
At 5:54AM ET (10:54GMT), the blue-chip slipped 0.02%, traded up 0.18% and the advanced 0.25%.
Elsewhere, European stocks struggled for gains after a mixed open as investors celebrated better-than-expected Chinese data but were wary of extending positions in equities before receiving details over Trump's plans for trade policy.
Earlier, Asian stocks closed mixed with Australia closing lower, though benefited from the beat on fourth quarter GDP growth and saw gains on a weaker yen.